In Trust Winter 2017/18
04 / 12 / 2017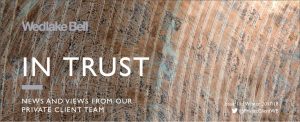 WELCOME FROM THE EDITOR
A warm welcome to the Winter 2017/18 edition of In Trust. In this issue, we look in detail at trusts, a central part of any wealth planning strategy.
Over the past three years, trusts have seen the introduction of a raft of additional compliance regimes aimed at ensuring that those involved with trusts are paying the correct amounts of tax. In light of this and the inclusion of trusts in recent tax avoidance revelations in the press, Eleanor Metcalf reminds us how trusts remain a legitimate and valuable estate planning tool.
One of the new compliance regimes and a key Private Client development since our Summer issue is the introduction of the central Trusts Register. Jenny Cutts explores what this means for trustees, settlors and beneficiaries, and how all trustees will need to consider the new requirements.
Emily Minett examines whether trustees have a duty to provide beneficiaries with information on a trust when requested. This is in light of the recent Dawson-Damer v Taylor Wessing case which highlighted the possibility of beneficiaries using the UK's Data Protection law to request trust information. Wedlake Bell's Head of Data Protection, James Castro-Edwards, explains more on this area of law in our "In Profile" column.
Shafaq Sadiq examines the concept of trusts in Islamic Law in her article and highlights how Wedlake Bell can help set up Shariah-compliant UK trusts and Wills; and in this issue's "Ask Ollie", Oliver Embley answers a reader's question regarding the payment and correct allocation of trust expenses.
Finally, many Wills will contain a trust so the two topics can rarely be dealt with in isolation. Ann Stanyer explains how the law of Wills is undergoing a major reform project and discusses some of the proposals put forward, including whether we could soon be making digital Wills and trust deeds. Wills and trusts by texts? Email? Read her article to find out more.
Trustees must ensure that the administration of any trust is kept up to date, and the introduction of the Trusts Register and the other compliance regimes over the past few years means that trust administration work has never been more important. Trusts remain a key component in preserving, managing and transferring wealth for the benefit of future generations and, with our team of trust experts, we can help you in setting up a trust and complying with the new administrative regimes. We look forward to advising you soon.
CONTENTS
Ask Ollie: How Should I Pay My Trust Expenses?